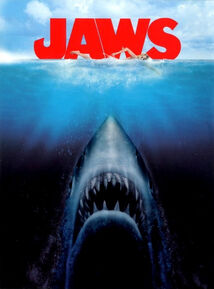 Jaws 
is the first film in a motion picture franchise which has so far spanned 4 feature films and a varitety of novelizations and other ancillary media.
Jaws
 is commonly referred to as "the first modern day Block-buster". Setting box office records, the film was labelled a 
blockbuster
due to the lines that were seen winding down and around city blocks during it's initial theatrical release in the summer of 1975
Jaws stars Roy Scheider as Martin Brody, Richard Dreyfuss as Matt Hooper and Robert Shaw as Quint
The first Amity Incident
Edit
Jaws, is presumedly based on a frightening true incident which occurred in 1973, referred to as 'The Amity Incident'. During the summer months of 1973, a rogue great white shark staked a claim near the coastal community of Amity, Massachusetts, and began to terrorize swimmers which nearly destroyed the local Amitian economy.
According to reports at the time, the mayor of Amity's initial reluctance to comply with the Chief of police's request to catch and kill the shark, directly led to wide spread panic on the Island. Ultimately, the shark was tracked down and purportedly destroyed after a lengthy sea battle which included Police chief Martin Brody, Oceanographer Matt Hooper, and local extreme fisherman, Bartholomew Marion Quint.
Production
Edit
In May of 1974 production of a feature film (Jaws) based on t'The Amity Incident' began quietly on what is known as South beach on the coast of Martha's Vineyard. JAWS was later released to overwhelming critical acclaim during the sumer of 1975, now referred to as 'the summer of the shark'. Besides being plagued with countless production problems including a malfunctioning shark and a sinking camera boat, the crew endured and the film was miraculously completed.
The thin line between fact and fiction has made the Amity Incident into something of a local legend on the Island of Martha's Vineyard.
Fans of the film (or 'fin fans'), continue to flock to the island to relive the initial fear that kept so many out of the ocean that fateful summer. In the hopes of playing down the terror surrounding the 'Amity Incident', the island chamber of commerce moved to adopt 'Amity' as the island's official name only for select summer months thereby limiting use of the name. An event (Jawsfest: Tribute) took place on the Island during the summer of 2012, and a new Blu-ray release of the film was released following extensive restoration of the original negatives.